Accessibility
sheltermanager.com is a fully managed solution for your animal shelter.
No software to install
Accessible from anywhere with any web browser
Works with all computer operating systems, tablets and smartphones (including Windows, Mac and Linux)
Translated to 15 languages, fully supports many locales including USA, Canada, UK, Australia, South Africa, New Zealand, Ireland, France, Germany, Spain, Lithuania, Russia, Greece, Italy, Turkey, etc.
One fixed, low price, payable quarterly, half-yearly or annually for all our features and continual improvements
No limit on the number of records or users
---
Animal and Person Management Features
sheltermanager.com has lots of great features for helping you manage the animals and people related to your shelter:

animal intake, movements and outcomes (adoption, reclaims, transfers, etc)
advanced movements, including holds, quarantine, permanent foster, trial adoption/foster-to-adopt
boarding kennel and vet/clinic management
diets, medical treatments and tests, vaccinations and journals
diary/task management
unlimited users, role-based permissions management and audit trails
contact management, membership, donors, fosters, vets, volunteers, staff and your own categories
animal control with case management, calls, dispatch, citations, trap loan/rental and licensing
document and contract generation, mailing labels, bulk emailing/fundraising
costs and financial management
non-shelter animals for clinic administration
staff and volunteer rota management
add your own fields to the system, search and report on them
---
Reporting Features
sheltermanager.com is endlessly customisable for generating reports:

timeline view shows at a glance what happened and when to all animals in care
customisable reports and graphs
repository with 712 (and counting) pre-made reports and graphs ready to use
organisation and country specific reports, including Asilomar Accords, ASPCA Aggregate Figures, Best Friends Data Matrix, Boehringer-Ingelheim, Hills Science Diet, NSW/VIC Government Figures, Petco Foundation, shelteranimalscount.org, SPCA Transfer Partner Spreadsheet
paperwork generation and storage
bulk email
mail merging and label printing
RSPCA figures generation for UK shelters
RSPCA standard forms including adoption, transfer of ownership, etc.
---
Document Features
sheltermanager.com contains a full word processor and online application form facilities:

standard adoption contracts, invoices, cage cards included and fully editable
document storage and archiving with all records
secure electronic signatures via any mouse/pen/touchscreen device, no paper required!
sample application forms included for adopters, volunteers, fosterers, animal observations, etc
create your own application forms that can be submitted directly into ASM from your website
application status management, automatically create ASM records from application forms
---
Publishing Features
sheltermanager.com can integrate with your existing website and publish to popular pet adoption sites as well as register new owner information with microchip databases:

fully customisable adoptable animal website generation to your own site, hosted space with us or embedded iframe
HTTP API to allow access to adoptable animal data from existing WordPress/PHP/other shelter websites
automatic daily publishing to petfinder.com, adoptapet.com, rescuegroups.org and other partner adoption sites
post adoptable animals straight to your shelter's Facebook page, Twitter, Pinterest and other social feeds
automatically register microchip details with foundanimals.org and other partner microchip providers and registries
automatically send your intake and outcome stats to shelteranimalscount.org
---
Payments and account management
sheltermanager.com can manage income from various sources:

mobile adoption checkout for new adopters to sign their paperwork, pay and make an optional donation
regular donations, fees, sponsorship, payments and voucher support
full double-entry accounting package built in
profit and loss and balance sheet generation
track events and fundraising campaigns
break figures down by payment categories and methods, etc.
UK gift aid support and HMRC spreadsheet generation
request money from customers via PayPal or Stripe and update payment records automatically
---
Animal Control Features
sheltermanager.com has features for animal control facilities and police departments:
---
Mobile access
ASM's user interface is already touch device friendly. sheltermanager.com adds a streamlined task-based interface to allow common tasks to be performed quickly via your smartphone: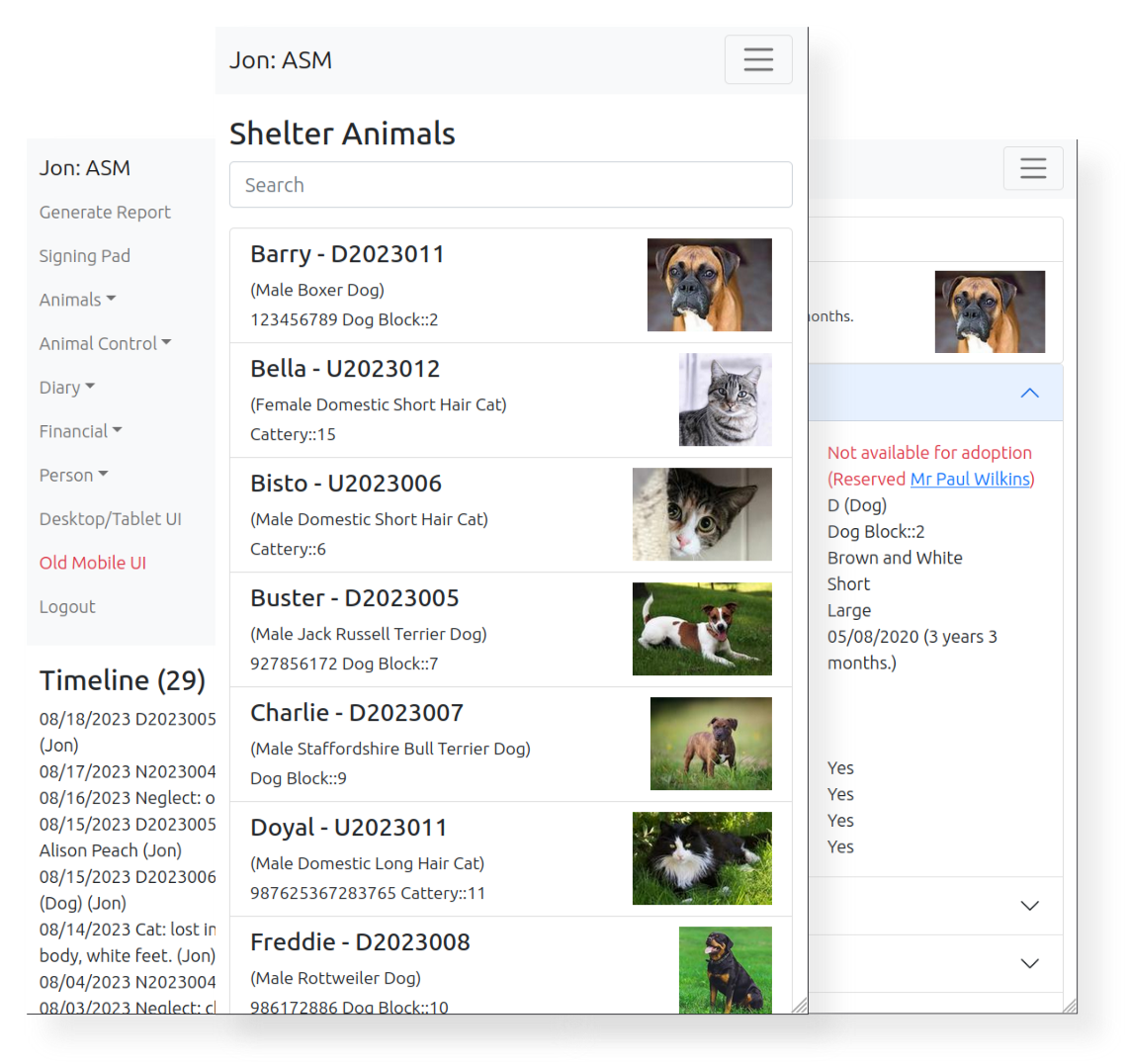 ASM's user interface is already touch device friendly. sheltermanager.com adds a streamlined task-based interface to allow common tasks to be performed quickly via your smartphone:
create and attach log entries to animals
perform and complete diary tasks
administer vaccinations and medical treatments
produce reports
manage homechecks
call up and view shelter animal data
receive dispatches and respond to animal control incidents
check license information in the field
take photos with your mobile device camera and attach to shelter animals
act as an electronic signature pad for customer paperwork
---
The data center
sheltermanager.com runs from secure data centers in the USA, Europe, Asia and Australia:
Your data is secure, safe and backed up offsite every day
High speed internet links, with guaranteed uptime
Separate clustered database servers ensure high performance and no contention or busy times with shelters in other time zones.
Privacy - Your data is the property of your shelter. We do not sell, modify or use your data in any way.
---
Importing data
We can take care of importing your data for you from your old software provider and can import data into your new account from:
ASM Open Source (any version)
AdoptAFriend
Anilog
AnimalShelterNet
Ark
Barrk
iShelters
Multiple Options
PetFinder
PetPal
PetPoint
PetStablished
PetWhere
RescueGroups
ShelterBuddy
ShelterLuv
ShelterPro
To Your Rescue
Trackabeast
VetRescue
Access Databases
Excel Spreadsheets