Recent News
Also check out our Facebook, Twitter and RSS feeds.
ASM 38
3rd February, 2016
ASM 38 is now available. This release is primarily bug fixes and includes extra security fixes for XSS and encoding-based SQL injection attacks. In addition, password storage has been upgraded to use a stronger, industry-standard PBKDF2 algorithm.
ASM 37
21st December, 2015
ASM 37 is now available. This release includes:
Uses client side routing for performance
Fractional stock value support and stock cloning
Matching accounting transactions for costs
Full support for location sub-units
Drag and drop support on the media tab for quick file uploads
Default RSPCA templates and online forms
Sales Tax/GST/VAT support and multiple payment receipts
New shelter views, including units and fosterers with capacity
New ASM visual theme
iPhone/iPad and Kindle Fire Apps
13th November, 2015
Our app is now available for the iPhone and iPad via the iTunes App Store. We also have our app in the Amazon App Store for Kindle Fire tablet users! Search for "sheltermanager".
FoundAnimals.org Integration
29th October, 2015
ASM can now automatically register microchips from all suppliers with the FoundAnimals.org free microchip registry. FoundAnimals are a non-profit dedicated to reuniting lost pets with their families.
Android App
13th October, 2015
Check out our Android App on the Google Play Store!
ASM 36
11th April, 2015
ASM 36 is now available. This release includes:
Correct adoption status in shelterview/animal details
Staff and volunteer rotas
Timeline view with service RSS
Mobile animal control interface with incident responding and licence checking
Animal transport management
Improved documentation
Ability to register the microchips of non-shelter animals
Time picking widget
Reservation statuses to track adoption applications
Online form spambot protection
Online form raw markup fields for contract clauses
Anibase UK Integration
4th February, 2015
ASM can now automatically register idENTICHIP microchips with the Anibase registry. Anibase/idENTICHIP are the UK's original pet microchip brand.
ASM 35
8th December, 2014
ASM 35 is now available. This release adds:
Scheduled emailing of reports
Ability to set units per location
Turkish translation (BUrco B)
Role cloning
Pickup locations
Email directly from lost/found/waiting list
Online form improvements (animal and incident attaching)
Cross-platform keybindings (CTRL+A to select all, CTRL+H to go home, etc)
ASM 34
29th July, 2014
ASM 34 is now available.
This release includes:
Browser based spellchecking - uses your system locale and dictionary
Better publishing feedback for success and alerts
Calendar view pulls together medical, diary and animal control dates on a calendar
Infer and display microchip manufacturer from number prefix
PetRescue.com.au publisher
Stock control with integration to administering of vacc/medical/tests and mobile stocktake
ASM 33
23rd May, 2014
ASM 33 is now available.
This release contains:
Animal control incidents, cases, citations, dispatch
Animal licensing
Trap loan and rental
New coding tokens for species, entry category and X per year
VetEnvoy support (HomeAgain and AKC Reunite)
Many minor improvements
AKC Reunite Microchip Registration
12th May, 2014
ASM can now automatically register AKC Reunite microchips through the VetEnvoy service. You can signup for VetEnvoy under Publishing->Set Publishing Options. As with other microchip registration support, ASM will automatically register the chips to the new owner when animals are adopted.
SmartTag Microchip Integration
17th April, 2014
ASM has been able to send tag info to SmartTag for the last four years, however we've now streamlined and improved the process to automatically register their microchips too - and it's now even easier to set up!
If your shelter uses SmartTag microchips (or doesn't but would like to), then all you need to do is give SmartTag a call/email to a get an account number.
Put that account number into ASM and it will take care of the rest - as soon as any of your animals that have been implanted with SmartTag chips or have a collar tag are rehomed, ASM will register the new owner information automatically. The service is free.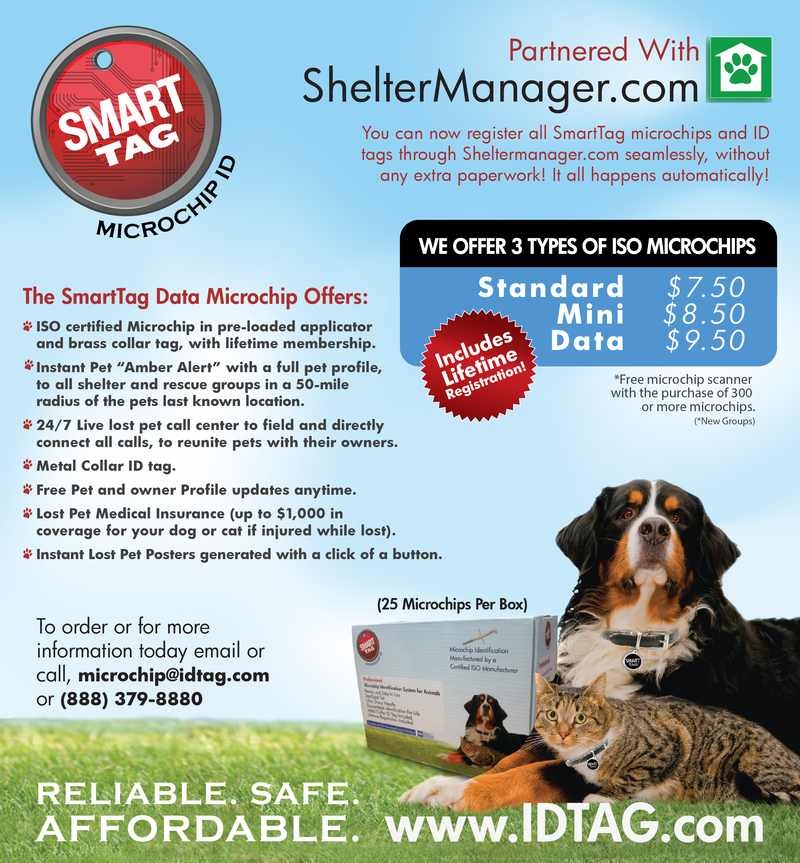 Hosting Price Increase
15th April, 2014
With effect from the 14th May, 2014, our prices will be increasing to:
| Currency | 3 months | 6 months | 12 months |
| --- | --- | --- | --- |
| United States Dollars | $95.00 | $160.00 | $310.00 |
| UK Pound Sterling | £55.00 | £100.00 | £185.00 |
| Australian Dollars | $100.00 | $175.00 | $330.00 |
| Canadian Dollars | $100.00 | $180.00 | $340.00 |
| Euros | €80.00 | €140.00 | €250.00 |
There are a number of factors that have influenced this decision:
Our prices have remained unchanged since 2009, so inflation has eroded the value of subscription payments.
3 years ago, we were managing all our customer databases on a single high performance server. We're now operating a farm of 12 such servers with that number going up every few months to maintain the current levels of service.
We've invested in other areas and services, such as extra infrastructure for hosting adoptable animals for our customers.
Support takes up considerably more of our time than it used to. We've hired another member of staff to help make sure we still have developer time for features, improvements and bespoke reports/data imports/etc.
We think sheltermanager.com continues to represent the best value shelter management package available. So far this year alone we've added animal control, online forms, automatic microchip registration with a number of popular providers and we don't intend to stop there! Our roadmap includes more great features like volunteer time management, clinic administration, drug/stock management, purchase ordering, additional smartphone functionality and point of sale.
If you choose to renew before the 14th May, 2014 - regardless of when your next renewal date is - you can pay your next subscription payment at the current prices through the "Renewal Information" section of the my account page.
HomeAgain Microchip Registration
11th April, 2014
ASM can now automatically register HomeAgain microchips through the VetEnvoy service. You can signup for VetEnvoy under Publishing->Set Publishing Options. Support for AKC Reunite is coming soon. As with other microchip registration support, ASM will automatically register the chips to the new owner when animals are adopted.
ASM 32
29th March, 2014
ASM 32 has been released. We've changed our version numbering system to account for the fact that minor/build numbers didn't really make sense any more with a web application and to drop the leading 3.
This release contains:
Group shelterview by entry category
Bulk vaccinations, medical and tests
Treat retailer movements as on shelter
New responsive HTML template
HTML publisher can create an adopted/happy tails page
Google Cloudprint/Apple Airprint support for tablets
Printable online forms
Mandatory online form fields
Automatic AVID UK microchip registration on adoption
Adoption fee animal field
Support for bulk geocoding with Google
ASM 3.3.1
10th February, 2014
ASM 3.3.1 has been released. The release contains:
Many bug fixes
Geocoding support and embedded maps
Negative donations for refunds
Location filtering (only allow users to see animals in a set of locations)
Searchable colours
ASM 3.3.0
17th December, 2013
ASM 3.3.0 has been released. The release contains:
Many performance improvements (minification, CDN use..)
Major upgrade to the built-in wordprcessor
Individual users can override locale and theme
Quarantine and hold support
Shelter view group/filters
New additional field types (multi-lookup, animal and person)
Donation payment types
Location units (pens and cage numbers)
Simplified Facebook configuration
Online forms to allow shelter websites to take adoption, lost animal, waiting list, etc form submissions from the public
ASM 3.2.2
2nd September, 2013
ASM 3.2.2 has been released. This release contains:
Official support for Internet Explorer 8
$ASK PERSON$ report tag
"Remember me" on login
Improved performance and less page refreshes via client side templating
Russian translation and new locales
Emailing documents from the media tab
Asilomar figures for US shelters
Support for youtube videos and web based document links
MANY bug fixes and improvements
ASM 2.8.14
15th August, 2013
ASM 2.8.14 has been released. This release updates ASM2 to use Java 7 and has fixes for the database script parser (allowing compatible dumps from ASM3).
ASM 3.2.1
22nd April, 2013
ASM 3.2.1 has been released. This release contains:
Facebook uploads the actual photo now, allows for sharing/galleries, etc.
Use native iOS6 photo/gallery uploader.
UK HMRC Gift Aid spreadsheet generation.
CSV data export.
Species sorting in search results.
Allow image rotating in media tab.
Many unicode fixes for non-English locales.
Many bug fixes and optimisations.
ASM 3.2.0
27th February, 2013
ASM 3.2.0 has been released. This release contains:
New alerts system includes vacc, medicals, homechecks, etc.
Upto 8 age groups can now be set
Live visual theme switching
More robust PetFinder and RescueGroups uploading
Support for trial adoptions/foster-to-adopt
Improved monthly animal figures
Shelter view and quick animal links strip
Word processor spell checking
Clone report button
Many bug fixes and performance improvements
ASM 3.1.1
20th December, 2012
ASM 3.1.1 has been released. This release adds support for the PetLink microchip service, IE10 and some cosmetic and bug fixes. A new facility allows you to set your own shelter logo and splash screens through the Extra Images page and most importantly, this release adds the ability to put additional fields on other animal and person tabs, this is our most requested feature ever, so Merry Christmas everyone!
ASM 3.1.0
26th October, 2012
ASM 3.1.0 has been released. This release adds new publishers for www.helpinglostpets.com and www.meetapet.com. It also adds label printing to the mail merge facilities, new annual figures and reports, a document repository, a sample set of 4,000 names for random name generation, the ability to exclude individual images from publishers and bugfixes.
ASM 3.0.9
18th September, 2012
ASM 3.0.9 has been released. This release adds the ability to exclude selected images from publishing, person merging, RTL support for Hebrew and Arabic, IP address logging for fail2ban and management tools, a recommended set of reports, Bulgarian and Bosnian translations, along with many bug fixes.
ASM 2.8.13
12th September, 2012
ASM 2.8.13 has been released and contains bug fixes and maintenance for the ASM2 branch.
ASM 3.0.8
6th August, 2012
ASM 3.0.8 has now been released and contains many bug fixes and improvements, including Norweigan language support, iPhone/Android image uploads from within the smartphone interface, default donation amounts and extra diary functions for the smartphone interface.
Facebook Sharing
29th June, 2012
ASM3 running under sheltermanager.com now allows you to easily post animals to your shelter's Facebook page. Simply click the Facebook button on the animal details screen. The posted text is configurable and you can choose which Facebook feed to post to in the publishing options screen.
ASM3 Windows Update
22nd June, 2012
If you downloaded and used the windows installer, you should download the latest ASM3 package as it contains a missing component from the previous installer - daily tasks for publishing and updating denormalised data. In addition, you will have to move the asm.db file from C:\Program Files\ASM to C:\Users\YOURUSER if you got an early version of the 3.0.2 installer as the old location caused problems with UAC.
ASM3 released!
15th June, 2012
ASM3 is finally released! Download installers, packages and source from here!
Multiple Currencies
3rd June, 2012
We can now accept payment in a selection of world currencies. This avoids shelters not knowing what their regular payment will be due to currency conversion rates.
ASM3 out of beta!
25th May, 2012
ASM3 is now out of beta and we have a stable release candidate. The last few changes are being made before public release.
ASM3 beta open!
28th February, 2012
ASM3 beta is now available for all sheltermanager.com customers!
ASM3 alpha testing
19th December, 2011
ASM3 alpha testing is now underway with a select group of shelters. Email us if you'd like to participate through your sheltermanager.com account.
Smartphone Interface Improvements
24th November, 2011
The smartphone interface now allows you to lookup and view details for any of your shelter animals. It has also been given an overhaul and ported to use JQuery Mobile. This makes the whole thing a little slicker and also adds some performance improvements.
Server Maintenance
2nd November, 2011
The sheltermanager.com server will be down for 30 minutes of maintenance on 2nd November between 21:00 and 23:00 GMT
User administration
26th October, 2011
sheltermanager.com user administration is now taken care of within ASM again. There's no need to go to the my account page to add and remove users.
Homecheck support in mobile interface
7th October, 2011
The mobile interface now allows you to mark homechecks complete on person records.
No more subscription management with PayPal
19th September, 2011
We're no longer using the PayPal subscription system. We now have our own system, which prevents accidental payments by shelters and solves the issues involved with renewing a cancelled subscription. All existing subscriptions have been cancelled. You can now renew through the my account page.